News
Thinking Outside the (Brain) Box
Originally published in the Summer/Fall 2022 edition of the Loyola Today
During the 1992 presidential campaign in the United States, Bill Clinton, Democratic candidate for the presidency, employed strategist James Carville, in an effort to win against incumbent president George H. W. Bush. Playing on the fears of a recession, Carville penned the tagline "The economy, stupid" which became a prominent slogan for the Clinton campaign. The tagline tapped into the zeitgeist of the time, following a turbulent economic period in the 1980s, and leading to an economic recovery that would continue into the dot-com bubble of the late 90s. Sam Ramadori '90 feels today's socio- political discourse centered on climate activism and environmental awareness is ripe for a similar head-turning quip. Sam came late to his own awareness of this global problem. "You won't find a picture of me hugging a tree at 23." He now looks back with respect to environmentalists who began agitating decades ago, before the movement hit the masses. Part of the problem for Sam is the reality of Canadians who are sheltered from the worst impacts of climate change for the moment.
Sam's journey to combatting the climate change problem, from law school to private equity to his current role as CEO of BrainBox AI, while unlikely, is becoming more-and-more common as the climate emergency is one that affects individuals, governments and private industry. It is an issue that is bringing together disparate groups to tackle a real problem. As Frank Sullivan '87 puts it, "There are many ways to be a climate fighter." He came to BrianBox AI with a background in IT and sales, and now acts as Chief Commercial Officer.
What is BrainBox AI?
Founded in 2017, BrainBox AI tackles existing infrastructure: skyscrapers, airports, shopping malls, and other commercial and residential real estate that all have existing heating, ventilation and air conditioning (HVAC) systems. These systems regulate the temperature of all buildings and range from simple thermostats to more complex centralized systems. Using the cutting-edge technology known as "autonomous AI", BrainBox AI retrofits existing buildings so that they become smarter. Sam describes this as "waking up" a sleeping building. After the retrofit, the building's AI is now able to predict weather patterns, adapt to changes in the energy grid or building occupancy, and understand its environment - all without human intervention. Frank compares it to the advent of self-driving cars. 
"Every building that you see today is going to be there generations from now."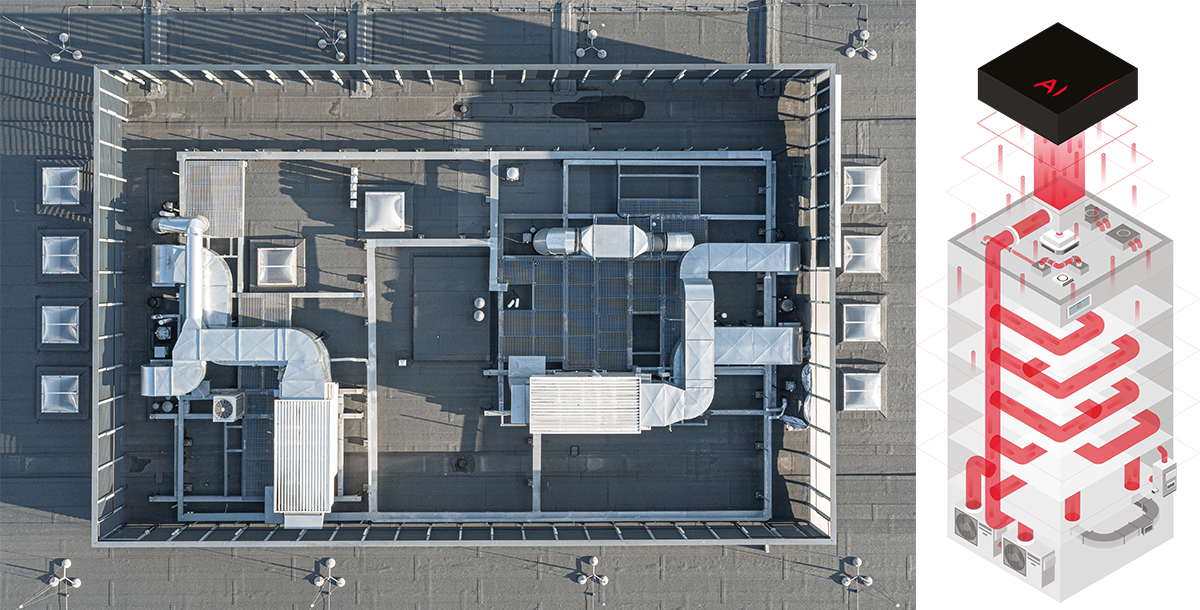 BrainBox AI deals primarily with existing buildings. While there are opportunities to optimize early in the construction of new buildings, both Sam and Frank agree that new constructions are a smaller part of the broader climate problem. The greatest impact of their technology on the reduction of energy consumption is optimizing the millions upon millions of buildings that already exist. "If we deal only with new buildings being built, we are not saving the planet," says Sam. The early success of BrainBox AI, which has signed agreements with both governments and private industry worldwide, points to changing legislation and public awareness in this area. In March 2022, the United Nations Environment Programme (UNEP) published a report, Managing Transition Risk in Real Estate, that claims 40% of the world's energy consumption can be linked to real estate. 
Youth Can Change the World
Being good stewards of our common home is a central tenet of Jesuit, Catholic social teaching, highlighted as one of the four Universal Apostolic Preferences by the Society of Jesus. Frank thinks back to the school's motto, of forming men and women for others, as having a daily impact on his life. "The foundation that Loyola provided courses through me every day." He still believes that Loyola High School, and particularly its students, have a big role to play. When the climate problems exacerbate and cause degradations in geopolitics, it is the youth of today and their children that will suffer the most.
Both agree that the voices of youth are much more impactful than their own. "You want to put the fear of God in a 60 year-old executive of an $18 billion corporation? Have Greta [Thunberg] show up at their front door!" Sam's sincere hope is that Loyola and its students will carry the torch on the initiatives that have been started by companies like BrainBox AI. The first priority, for him, is putting aside political differences and uniting behind the cause for the common good and never again electing a government that does not place climate as a priority.
Like Carville's impactful slogan on the economy back in 1992, what may be needed is a rallying cry. 20 years later, the motto of political parties needs to reflect the concerns of today, and to ensure that their policies mitigate the negative impacts of climate change.
Sam Ramadori '90 


Sam studied Law at the University of Ottawa and practiced as a lawyer before discovering it was not his passion. He completed his MBA at the Ivey Business School at Western University and went on to work in management consultancy and private equity investment, helping to turnaround businesses in the heavy industry and manufacturing industries. From there, he had the opportunity to join BrainBox AI, becoming CEO in 2021. 
Frank Sullivan '87 


After CEGEP, Frank studied in France before returning to North American to work sales at a computer leasing company. He then joined California- based networking company, Cisco, where he worked for over 17 years in both sales and operations. During the pandemic, Frank decided to take a leap of faith and leave IT networking after 25 years to join BrainBox AI, where he currently serves as CCO.
Photo credit(s): Courtesy of BrainBox AI
Loyola Today

Communications Department & Media Requests
---
Contact communications
Chiara Folini-Buma
Director of Communications and Marketing
communications@loyola.ca
---
Official social media Accounts
---
Authorized Groups