News
Healing Conversations
Whole Person Stories
By Alex McKinnon '97
Originally published in the Winter/Spring 2022 edition of the Loyola Today
My first day at Loyola was also a first for the school itself.
For a little over 75 years, Loyola had stood, in some incarnation or another, nestled in between the college dorms and classrooms of the sprawling University campus on the north side of Sherbrooke. Now, it was moving across the street.
That morning, all the students gathered in the field next to the old campus and began the ceremonial walk to the new location. Like most of the kids just starting out that day, I was really nervous, barely knowing anyone. Unlike the others though, it felt like everyone seemed to know me.
As we crossed through the intersection fronting the University's main entrance, it dawned on me - this was the exact spot where two years earlier my older brother Paul was hit and killed by a speeding police car as he was crossing the street to catch his bus home.
Soon after Paul died, I began to lose nearly all memory of him, alive. The sound of his voice, his laugh, what just being around him felt like. This was made all the more strange given that I was constantly being confronted with memories of his death. Paul's was a legacy I couldn't remember and yet couldn't escape.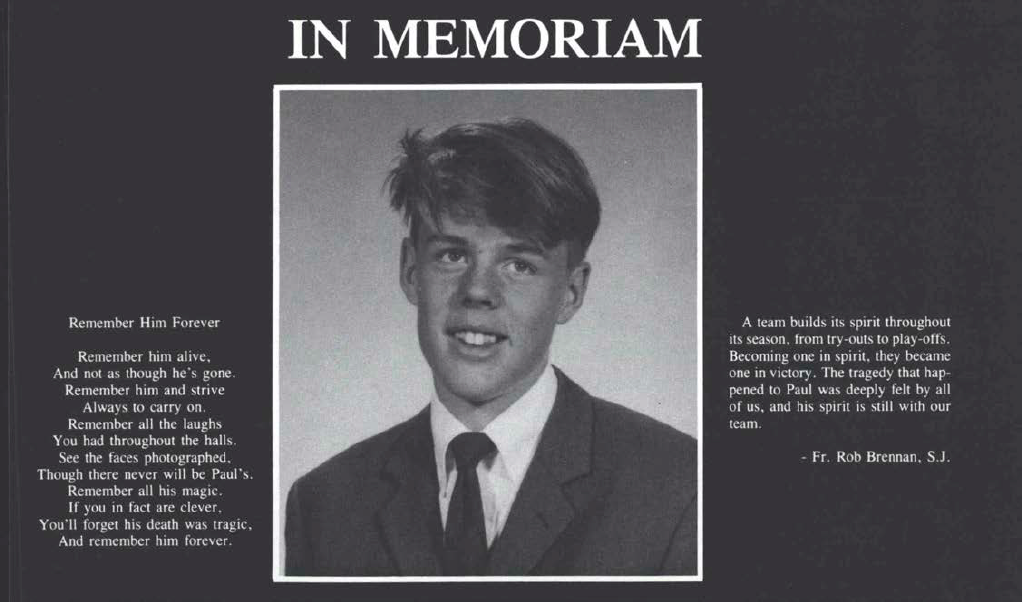 This past January, I released a 4-part podcast with the CBC called Sorry About the Kid. It's about me trying to regain the memories I've lost of Paul and attempting to reconcile my complicated relationship to him.
The response has been incredible and nothing I could have expected, but the notes and letters from Loyola graduates and both current and former staff specifically, have been some of the most profound.
Letters poured in from people who'd witnessed Paul's death or were friends with him or teammates. People who'd experienced real trauma at a pivotal point in their adolescence wrote that they continue to think about Paul to this day. That they never felt comfortable talking about it before. That because it wasn't their brother, they never felt they had the right to grieve Paul's loss openly and honestly.
After many years working on this project and many more processing my own grief, this was something I'd never considered. I'm really happy to learn that the podcast has sparked so many healing conversations and social media threads. That people finally feel comfortable speaking about what they felt and experienced at the time.
We're all going to experience grief in our lives. It's inevitable. And while there's no right or wrong way to grieve, what I've learned is just how important it is to talk about it, in whatever way you can. 
I know Paul better now than I ever did, but it's not because I suddenly remember everything about him as maybe I'd hoped when I started work on the podcast. It's because I now have a fuller idea of who he was, a broader tapestry made up of stories and memories stitched together, as told by those that loved him and miss him most. And there are so many in the Loyola community I have to thank for that.
Listen to the CBC Podcast: Sorry About the Kid
Alex McKinnon '97 

Alex McKinnon is a screenwriter, podcaster and entertainment industry veteran who has worked on several films, music tours and marketing campaigns in both the US and Canada.
Photo credits: CBC  
Loyola Today

Communications Department & Media Requests
---
Contact communications
Andrés Canella
Director of Communications
communications@loyola.ca
---
Official social media Accounts
---
Authorized Groups