News
Filipinos at Loyola: The Next Generation
LETTER FROM THE OFFICE OF J.P. MANCINI, LOYOLA HIGH SCHOOL (December 16, 2021)
In the recently published edition of The Loyola Today, an article was written about Filipinos at Loyola and the Next Generation. The article references the Handinero family (Mike '92 and Diego '20) and their close attachment to the school community as it provided them with a perfect match for their family values. Both Mike and Diego have been tremendous contributors to the community, in particular, in regards to the school's athletic program. Mike's wife and Diego's mother, Michelle Maguigad, is no stranger to the Loyola community either. Michelle has been a long time contributor to the Mother's Guild and one might even call her a volunteer extraordinaire.
Unfortunately, it is with great sadness that we announce the passing of Diego Handinero on December 14, 2021. The Handinero family suffered the tragic loss of their son following a rare medical complication that affected Diego. While we are proud to highlight the article about the contributions of the Filipino community to Loyola High School, we would be remiss if we did not acknowledge this monumental loss and that we mourn the passing of one of our own. 
Diego was a fierce competitor but embodied the true gentlemanly spirit of a Loyola student athlete. With a spirit of grace and class, Diego positively impacted the attitude of his teammates and coaches. His work ethic - a reminder to us all that the thirst for improvement can never be quenched if you wish to achieve greatness. When it mattered most, Diego produced moments that captivated his peers and he will live on in those memories and in the relationships that he formed with his teachers, friends and teammates. 
When we lose a member of our school community, at such a young age, it is easy to feel as though all of the time and effort that we invested was never allowed to fully develop to its true potential. In some cases, we may even feel we have been cheated of seeing a young person flourish and reach the summit of their life. It is in times like these that we must remember the values of the community upon which we are built. Love and investment in other people can never be wasted and while we may grieve their loss, we recall that they have now reached the summit of their lives as they join the Lord and await their next encounter with us. The foundation of our faith reminds us that while we may be apart for now, it is only temporary before we are together again.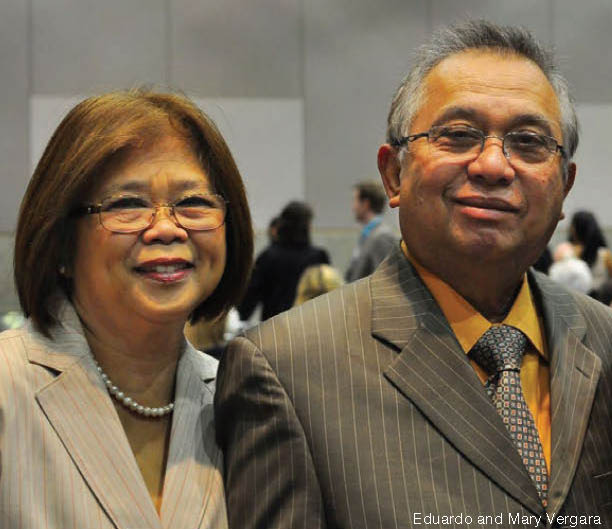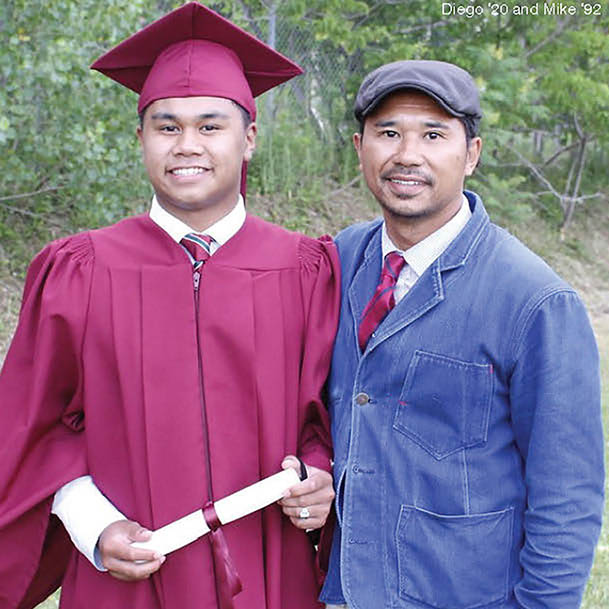 Filipinos at Loyola: The Next Generation
By Edward Vergara '94, Edwin Vergara '97 and Edgar Vergara '00
Originally published in the Summer/Fall 2021 edition of the Loyola Today
In June 2020, Diego Handinero '20 (son of Mike Handinero '92), graduated from Loyola High School; one of the first, second generation Filipinos to graduate from the school. On graduation day, Mike knew that Diego got what he needed – a foundation of core values that Diego could trust.
Encouraging Diego to attend Loyola was an easy decision for Mike. Afterall, his affinity for Loyola continues to this day. Despite having graduated almost 30 years ago, Mike witnessed firsthand the growth of Filipinos at the school. Loyola became a second home to him. Diego would now have the opportunity to create similar relationships, building on the history and tradition Mike had forged so many years ago.
In the 1990s and early 2000s, the Filipino community was very prevalent at Loyola. There were a number of factors, such as their religious beliefs, that persuaded Filipino parents at the time to send their boys to the school. Another important aspect was word of mouth. Filipinos are culturally familial; some way or another an elder Filipino is your aunt tita or uncle tito, while many of your unrelated Filipino peers are introduced to you as your cousins. This bond within the community fostered an enormous amount of trust and Loyola quickly became a school of choice among parents. That familial trend continued as more and more Filipinos were accepted into Loyola. Parents were heavily involved in multiple facets, from the Mothers' Guild to the Graduation Committee, well after their boys had graduated. For us as students, the school was particularly special and essential in forming our core values and beliefs. Given the relative diverse nature of the classroom at the time, meeting individuals with similar values, beliefs, and interests was common. The culture at the school was in many ways similar to the culture we had grown up in and thus was one we could identify with. Most importantly, we were able to turn peers to friends, and friends to brothers – relationships that continue to thrive to this day. Filipinos were especially active in the school sports scene. Follow the walls during the aforementioned period and you'll find a number of teams in basketball or volleyball featuring a large contingent of Filipinos.
Unfortunately, with the introduction of Quebec's Bill 101 in 1977, attending Loyola became increasingly difficult for individuals whose parents had immigrated to the province. With the law essentially limiting English secondary education to those whose parents received secondary instruction in English in Canada, new Filipinos to the province would not be afforded the opportunity to send their boys to the school. Immigration from the Philippines to Quebec continues to lag the majority of Canada – between 2011 and 2016, the number of Filipinos in Canada grew by over 26%, while Quebec saw growth of only 11%. Ultimately, fewer and fewer Filipinos roamed the halls of Loyola. However, in recent years, we have seen the number of Filipinos in the classroom increase as our generation's children enter their high school years. Despite the long gap since the last of our generation graduated, the affection and gratitude that we all took away from the years there has remained.
In particular, our parents, Eduardo and Mary, immigrated to Canada from the Philippines in the early 1970s, prior to Bill 101 being passed, in search of a better life. Much like many immigrant parents, providing the best education was always top of mind. They can't exactly recall why they decided on Loyola for us, though "hearing about it from friends or at work" was definitely one of the reasons. Whatever the reason, whether by design or luck, we were fortunate to have attended Loyola and be part of the tradition.
Just like our parents before us, we now share Loyola stories with our peers within the community and with the younger generation looking for the right fit to continue on their learning path. We are now a trusted voice for those looking to navigate through an abundance of high school choices. The lessons we have learnt on how to be men for others provides a strong reference point to these prospective students. In order to continue this tradition, we are proud to introduce the Eduardo and Mary Vergara Bursary, intended to provide financial support to BIPOC (Black, Indigenous and People of Colour) students interested in attending Loyola High School. The Bursary not only honours our parents, but all the Filipino parents that have sent their children to Loyola. These men have grown from classmates to friends, and from friends to family. We look forward to nourishing and supporting this tradition.
To Mike Handinero's surprise, Loyola hasn't changed too much since his time there. On the surface, tangible items have improved, but the "feel" of the school remains the same. We, the Filipino community, have a history there. That "feel" and history is what makes the school so memorable and the reason we are looking forward to giving others the opportunity to experience it as well.
About the Authors
Edward '94 is retired from WestJet Airlines and resides with his son Jediah in Montreal.
Edwin '97 now works at Microsoft. He resides in Montreal with his twins, Kara and Oskar. Oskar joined Loyola for the 2021-22 school year.
Edgar '00 now works at RBC Capital Markets and resides with his family in Toronto.
Loyola Today

Communications Department & Media Requests
---
Contact communications
Andrés Canella
Director of Communications
communications@loyola.ca
---
Official social media Accounts
---
Authorized Groups